Are you looking to transform your outdoor space into a multipurpose retreat? You're in the right place!
This article will show you how to turn your home's exterior into a place that offers various seating areas without taking up too much of your yard. Discover how to create multiple cozy, comfortable areas where friends and family can gather.
Introduction to Different Seating Areas
Incorporating different seating areas is an excellent way to make the most of your outdoor space and create a versatile area for relaxation and entertainment.
To create multiple seating areas, consider these options:
Use planters, trellises, or other landscaping elements to define each seating area visually.
Add outdoor furniture, such as chairs, benches, or chaise lounges, to each seating area.
Use outdoor rugs, cushions, and throw pillows to create a cozy, inviting ambiance.
Designate each seating area for a specific activity or use, such as eating, reading, or socializing.
By incorporating different seating areas, you can create an outdoor oasis that is functional, stylish, and perfect for all your outdoor needs.
How To Create Outdoor Spaces For Multiple Seating Areas
Incorporating different seating areas in your outdoor space can have a multitude of benefits, providing options for relaxing, entertaining, and facilitating conversation.
Here are some of the benefits of incorporating different seating areas:
1. Increased functionality: By creating different seating areas, an outdoor space can serve multiple purposes, from dining to lounging to playing games.
2. Versatility: Different seating options can accommodate different numbers of people, allowing you to host both small and large groups.
3. Aesthetic appeal: Incorporating different seating areas can add visual interest and an element of design to your outdoor space.
4. Comfortable seating: With multiple seating options, guests can choose the most comfortable option for their needs.
5. Improved flow: Different seating areas help to break up a large outdoor space into smaller, more manageable sections, improving traffic flow and making the space more inviting.
Design Considerations for Different Seating Areas
Designing outdoor spaces with multiple seating areas requires thoughtful consideration of a few key factors to ensure each area serves its intended purpose.
Here are some design considerations to incorporate different seating areas:
Purpose: Consider the primary function of each seating area, such as dining, lounging, or entertaining, and plan the layout and furniture accordingly.
Proximity: Group seating areas based on their intended function and proximity to one another.
Shade: Provide ample shade options for each seating area to make them comfortable and useable.
Privacy: Use greenery or fencing to create a sense of privacy between seating areas.
Comfort: Incorporate cushions, pillows, and other accessories to add comfort and style to each seating area.
By taking these design considerations into account, you can create a comfortable and cohesive outdoor space with multiple seating areas.
Types of Seating Areas
Incorporating different seating areas is a great way to create an inviting outdoor space that encourages relaxation and socialization. Here are some types of seating areas you can incorporate in your outdoor space:
1. Dining Area: A dining area is a centralized spot for enjoying meals with friends and family. It's best to place it near the kitchen or grill for easy access to food and utensils. Choose a dining table and chairs that fit your style and needs.
2. Lounging Area: A lounging area is a comfortable spot where you can relax and unwind. You can create this area with comfortable outdoor sofas, chairs, and chaise lounges. If you have space, you can also add a hammock or a swing.
3. Fire Pit Area: A fire pit area adds warmth and ambiance to any outdoor space. It's ideal for chilly evenings and adds another spot for socialization. Place chairs or benches around the fire pit and add some cozy blankets for extra comfort.
4. Reading Nook: A reading nook is a small and intimate seating area that's perfect for solo activities. Choose a quiet and secluded spot and add a comfortable chair, ottoman, and a small side table for books or drinks.
Adding different seating areas to your outdoor space allows for versatility and encourages outdoor living. So get creative and have fun building the perfect outdoor retreat for you!
Materials Used for Different Seating Areas
Creating multiple seating areas in your outdoor space is a great way to maximize its functionality and visual appeal. When planning to incorporate different seating areas, you need to consider the materials used for each seating area carefully.
Here are different materials to use for various seating areas:
1. Lounge Area: For a lounge area, use comfortable and cozy furniture pieces like a chaise longue, outdoor sofa, or armchairs with padded cushions. Choose a weather-resistant and durable material like wicker, rattan, or wrought iron.
2. Dining Area: For a dining area, use a sturdy and robust material such as wood, aluminum, or wrought iron. Choose chairs and tables with a classic and elegant design to create a sophisticated look.
3. Entertainment Area: For an entertainment area or for outdoor games corner, choose materials that are functional and weather-resistant like plastic, aluminum, or PVC. You can use beanbags, outdoor rugs, and poufs to create a playful and casual atmosphere.
With the right materials, you can create unique and relaxing outdoor spaces perfect for socializing, relaxing, or dining.
Creating Different Seating Areas
Creating different seating areas in your outdoor space can add diversity and interest while allowing you to maximize your use of the area. Here's how you can create multiple seating areas in your outdoor space:
First, consider the purpose of each area you want to create. Are you looking to create a dining area, a lounge area, or a reading nook?
Choose the furniture and decor according to the purpose of each seating area. Make sure the seating sets are different from each other and unite furniture by the style.
Use outdoor rugs to delineate each space and create a cohesive design. Also, pay attention to the scale of each area.
Landscape your seating areas by adding plants and flowers that add to the ambiance of each area.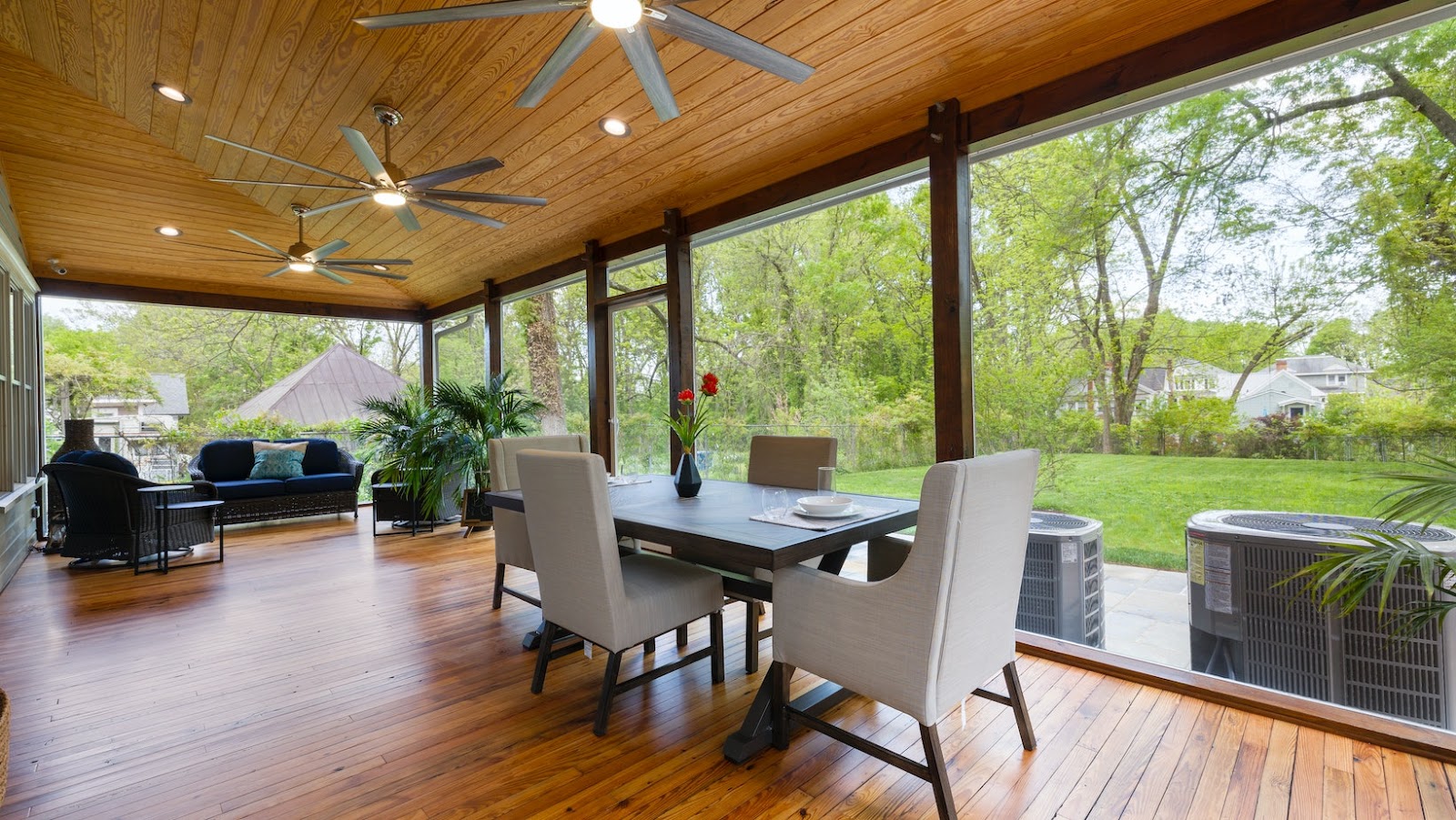 Make sure each seating area is equipped with proper lighting so that you can enjoy your space both day and night.
With these steps, you can incorporate different seating areas into your outdoor space, making it the perfect getaway for any time of day.
Maintenance of Different Seating Areas
Creating multiple outdoor seating areas is an excellent way of adding functionality and style to your garden or patio. However, maintaining these seating areas requires a bit of work to keep them looking their best.
Here are some tips to help you maintain different seating areas:
Wooden Furniture: Wooden furniture is beautiful, but it requires some maintenance to last. Clean the furniture frequently, using mild soap and water, and oil or stain it every year.
Metal Furniture: Wipe down metal furniture with a damp cloth regularly to prevent rust and wash it annually with soapy water. Apply a rust inhibitor and touch-up paint to protect the furniture from weather damage.
Cushions: Outdoor cushions need to be kept clean and dry to prevent mold and mildew growth. Clean them often, or spot-clean any spills or stains, and store them away during the rainy season.
Umbrellas: Clean your umbrella fabric with soapy water, rinse well, and leave it open to dry before storing it away. Make sure you close the umbrella during rain and windy conditions to prevent damage.
Regular Cleaning: Use a leaf blower or broom to sweep debris from the seating areas regularly. Hose the areas down or pressure wash them at least once a year to keep them looking fresh and vibrant.
Pro Tip: Cover your outdoor furniture with weather-resistant covers when not in use to protect them from weather damage and prolong their lifespan.
Conclusion
Incorporating different seating areas is a practical way to create a comfortable and inviting outdoor living space. By mixing and matching furniture and decor, you can create distinct areas while still maintaining a cohesive and functional design.
Here are the steps to follow to create outdoor spaces for multiple seating areas:
Start by defining the space you have using creative landscaping ideas.
Incorporate different styles and types of seating, like lounge chairs, patio furniture, swings, and benches.
Use rugs and other decor pieces to define the different areas and add visual interest.
Add lighting fixtures and outdoor heaters to create a cozy and welcoming atmosphere.
Finally, don't be afraid to get creative and personalize your space! Opt for colorful pillows, funky accents, and unique furniture pieces that make the space truly your own.
Pro tip: Incorporating different seating areas not only creates a practical space but also improves the aesthetic value of your outdoor living spaces.